If you're in the processing of designing a website in Ireland and are looking to recruit some help, but are torn between a freelance individual and an agency, we are here to help. There are a few key differences to take into consideration that may make your decision a little bit easier, or, at the very least, a little more clear.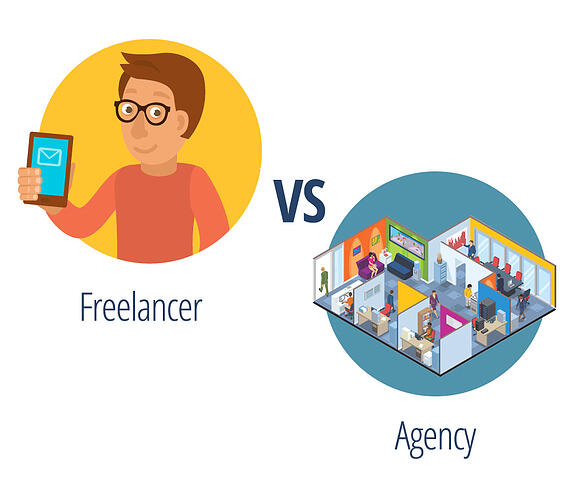 Firstly, a freelancer works for themselves which makes them more flexible with their hours, so if your business has unconventional hours, this may be a great option. Conversely, because freelancers do work for themselves, their skill set is limited to one or a handful areas of expertise. This is no issue if you are looking for someone to simply design or someone to simply to front end development.
An agency will arguably provide a more timely option, as there are several people working who can fill in if someone falls ill or behind on a task. The agency tends to also be more of a jack of all trades, with capabilities to do all elements of web design. Agencies may not offer as personalized level of service and are a little less flexible in the way that they operate and run.
There is no right or wrong answer, the choice is yours and depends on your needs, wants, requirements and personal preference. These two options are the main options for Irish web design and website development, so here is a quick cheat sheet to help you, very clearly, understand the differences:
Freelancer
Affordable
Skilled in certain areas (subject experts)
Flexible
Limited functionality
Integrated social media approach
Informal training, lots of practical experience
Limited warranties and guarantee
Limited support
Agency
Customized design
Wide skills
Less personalized
Training and integration provided
Full team dedicated to your project
Warranty and insurance
Formally trained, pre-screened staff.